The CHOOSE YOUR ATTITUDE Journal

brain rewiring + gratitude + goal visualising + action plan
The CHOOSE YOUR ATTITUDE Journal
brain rewiring + gratitude + goal visualising + action plan
Buy yours today
WATCH: Why this little book is a game-changer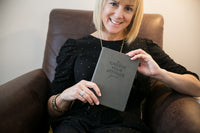 The Choose Your Attitude Journal
A powerful combination of the attitude boosting tools developed by Debra Searle during her dramatic solo row across the Atlantic and the latest research into positive psychology.
Due to changes during Brexit we are currently only able to ship to UK addresses for individuals. If you are looking for delegate gifts for an event or to buy in bulk for your team please contact laura@debrasearle.com.
start today
Brain rewiring + gratitude + goal visualising + action plan
In less than 10 minutes a day you can rewire your brain. The CHOOSE YOUR ATTITUDE Journal:
✓ prevents procrastination and helps you to focus on controlling the controllables
✓ primes your brain for positivity
✓ helps you to scan the world to see the opportunities that are present
✓ takes your goals from dreams to reality
✓ motivates you to prioritise and take positive action
✓ helps you think, feel and act like the person you want to be in the future
Buy your Journal now
Michele's Story
"Well, after using the Journal since April, something amazing happened last week... I got a promotion at work! I've been battling this for two years and dealing with a manager who kept putting me down. Thank you Debra for showing me how to use positivity and the power of my subconscious mind 😀Now... what next??"
Get your copy
What others say about Debra
"...you had an enormous impact on me – such an impact that I have taken the plunge and set up my own business. I genuinely would not be on this path if I hadn't heard you so I wanted to say a massive THANK YOU!"

Jude Brooks, www.judebrooks.com
"Now I could wallow in self-pity but frankly you've given me a virtual kick up the arse. Nothing will change unless I make that change myself. You've inspired that. Only I can make my business a success. Only I can find happiness in my personal life."

Neil O'Brien, www.accentis.co.uk
"I've been using your techniques every day. I know I will continue to use them. You are an amazing woman and inspired me to find my amazing woman inside me - thank you Debra."

Emma Lomax
"I've been putting together my Choose Your Attitude playlist... oh and you have got me signed up for my first triathlon. Ok it's not crossing the ocean but I just went 'Stuff it - I've been talking about it for long enough, let's do it!'"

Robin Parker, www.driftinnovation.com
the choose your attitude brain trigger collection